If you are celebrating Mom or any Mom you know this
Mother's Day
check back in tomorrow for a chance to win a gorgeous, unique giveaway for her!
Don't miss it! There are lots of simple ways to be entered to win--and Mom will undoubtedly be super blessed by this thoughtful, unique gift!
Oh and here's a sneak preview to get you excited and wondering...See you here
tomorrow
!
P.S. Join Nicole from
Working Kansas Homemaker
today for the first of her 31 days series on Juicing! I'm contributing a post May 4 so check back over at her site for that. Excited to share and learn about living a healthy life in as many ways as possible.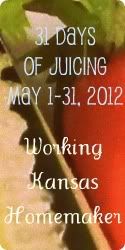 I am the living bread that
came
down from heaven. Whoever eats this bread will live
for
ever. This bread is my flesh, which I will give
for
the
life
of the world.
John 6:51
I'm so glad you're here! I hope you're encouraged by what you read and spurred on to pursue the heart of God. To make sure you don't miss anything join us over on the sidebar or add our button to your page. Be blessed!